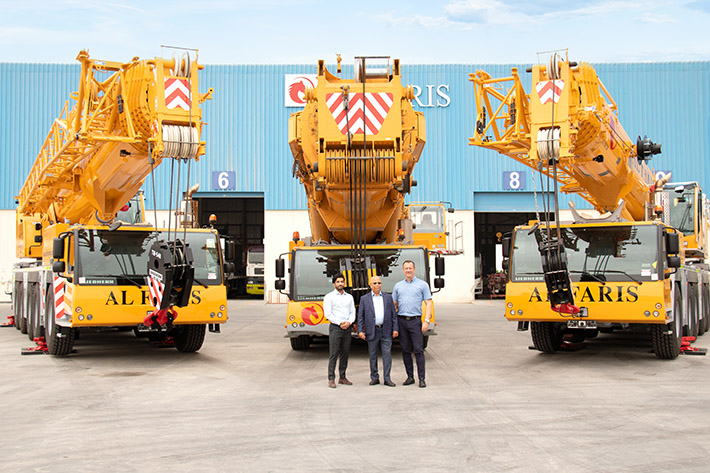 Mobile Crane Suppliers in UAE
Are you searching for trustworthy and reliable mobile crane suppliers in UAE? Don't look any further! United Al Saqer Heavy Equipment (UASHE) is the one-stop store for all of the requirements for mobile cranes. With a stellar track record on the market and a strong commitment to providing top-quality solutions and products that satisfy the various needs for lifting.
High-Quality Mobile Crane Suppliers in the UAE
Here at UASHE, We understand how important it is to have cutting-edge equipment to improve your operation. Our selection of mobile cranes incorporates the most recent technological advances and is in line with the most stringent quality standards in the industry. No matter if you're looking for a compact crane that can be used in tight spaces or a high-performance lifting system we have the ideal solution for your particular requirements for your project.
Reliable Mobile Crane Dealers in the UAE
We are reputable mobile crane suppliers within the UAE we are focused on client satisfaction and work hard to develop long-term relationships with companies from various industries. Our expert team is dedicated to providing personalized support to ensure you get the ideal mobile crane that will work to your requirements for lifting as well as budget.
Why Choose UASHE for Your Mobile Crane Needs?
Wide Product Variety:

 We boast a vast array of cranes for mobile use that can be adapted to different capacities and functions, making sure you'll always find the best suitable for your project.

High-Quality Assurance:

 With a commitment to the highest quality, our cranes are tested rigorously and can meet the strictest safety standards. It gives you the peace of mind you need during your work.

Professional Team with Experience:

 Our skilled professionals are well-versed and knowledgeable within the field, which allows them to provide expert guidance and help at all stages of purchasing a crane.

A Customer-Centric Methodology:

 We prioritize our customer's needs, and we work with you to fully understand the specific requirements of your business, providing an appropriate solution to your specific lifting needs.
Contact UASHE Today
Do not compromise the efficiency and quality of your mobile crane options. Join the thousands of satisfied customers who have chosen UASHE as their preferred mobile crane dealers in UAE. Get in touch with us now to learn more about our wide selection of top-quality mobile cranes. You will also experience unbeatable customer support. Let's lift your lifting operation to new heights!