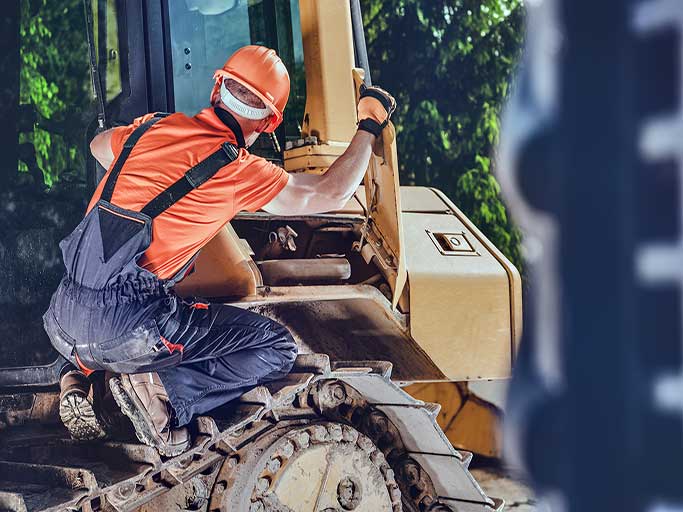 Heavy Equipment Repair Service
If your equipment needs repair or maintenance and you require a trusted and knowledgeable partner who can ensure maximum performance and reduce time to repair. United Al Saqer Heavy Equipment (UASHE) is the trusted provider of top-quality repair and maintenance services for heavy equipment Repair in UAE. With a team of highly skilled technicians and a dedication to quality, we're committed to keeping your equipment functioning efficiently.
Top Provider of Heavy Equipment Repair in the UAE
A leading service provider for repairs to heavy equipment in the UAE, UASHE understands the importance that properly maintained equipment plays in your operation. The repair services we offer encompass a broad range of heavy machinery, such as excavators, construction machinery cranes, forklifts, and many more. Despite the difficulty of the situation the experts at our disposal can deal with it swiftly and efficiently.
Quality Heavy Equipment Repair Services within the UAE
We at UASHE We are committed to the reliability and quality of our heavy equipment Repair. Our repair technicians are well-trained and skilled, which means that the equipment you rely on is safe in the hands of skilled technicians. We employ state-of-the-art tools and authentic spare parts to perform repairs and ensure your equipment functions properly and is safe after our repair.
Why should you choose UASHE to handle your Heavy Equipment Repair needs?
Comprehensive Repair Solutions:

 Our experience covers a broad range of heavy-duty equipment, offering customers a one-stop solution for all repair needs.

Expertly trained technicians:

 Our highly skilled technicians possess vast knowledge of various models and brands of heavy equipment that allow them to offer the best repair service.

Fast Turnaround Time:

 We understand the necessity of keeping downtime to a minimum for your business. Our team is committed to making repairs as quickly as possible while maintaining high quality.

Customer Satisfaction:

 The satisfaction of customers lies central to our products and services. Our goal is to surpass the expectations of our customers and to build long-lasting connections with our customers.
Get in touch with UASHE Today
Don't let equipment breakdowns hinder your productivity. Call UASHE immediately and trust the repair of your heavy equipment to our highly skilled experts. Being a reliable supplier of repair and maintenance services for heavy equipment throughout the UAE UASHE is committed to ensuring that your equipment is operating optimally. Discover the UASHE experience and help keep your business functioning smoothly and efficiently.